Automatic Corrugated Carton Box Making Machine
HUAYU-C Series Auto Flexo Printer Slotter Die Cutter & Stacker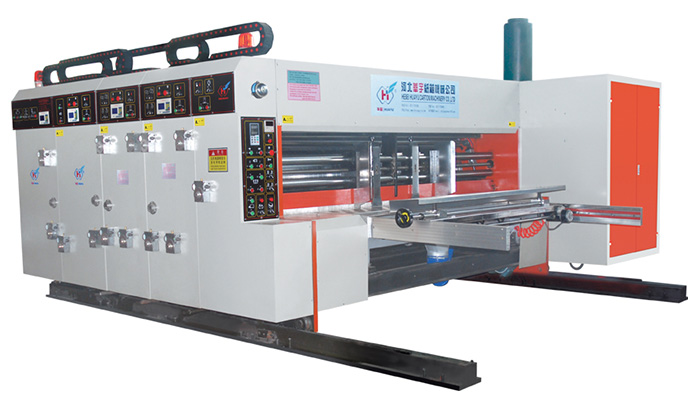 Similarly, the most important purpose of HUAYU-C series auto flexo printer slotter die cutter and stacker is to print high quality colors on corrugated cartons. Top printing is its particular characteristic.
Technical Parameters of C Series Auto Flexo Printer Slotter Die Cutter & Stacker
NO.
Name
unit
Parameter
HYC-420
HYC-480
HYC-530
1
Inner Width
mm
2200
2600
2400
2600
2600
3000
2
Max. Sheet Size
mm
1250×2000
1250×2400
1450×2200
1450×2600
1650×2400
1650x2800
3
Min. Sheet Size
mm
350×640
350×640
380×720
380×720
420×720
420×720
4
Max. Print Area
mm
1250×1800
1250×2200
1450×2000
1400×2400
1650x2200
1650×2600
5
Print Plate Thickness
mm
7.2
7.2
7.2
6
Max. Machine Speed
sheet/min
110
100
90
7
Economic Speed
sheet/min
0-90
0-80
0-70
8
Topping Precision
mm
±0.5
±0.5
±0.5
9
Cardboard Thickness
mm
2-11
2-11
2-11
Main Features
This high speed flexo printing slotting and die cutting machine is outfitted with a back-kicking-type feeding unit.
Skip feed is available, thus producing larger size cartons.
The transmission gears are made of high quality steels. They are all ground after being thermally treated.
The auto flexo printer slotter die cutter and stacker applies keyless connection which can maintain long term high efficiency and high printing precision.
Auto zero and reset functions are available.
Strong pneumatic lock makes corrugated box printing machine more stable.
The maximum machine speed can be up to 100 sheets per minute.
Features of Electrical Control System
More than 95% electrical components of this auto flexo printer slotter die cutter and stacker are world famous brands.
The control center is equipped with Simens PLC and single color touch screen which come with high reliability, low failure rate, high efficiency and easy operation.
The main motor utilizes frequency converter to adjust speed, which is stable and power saving. Touch screen makes operation more convenient.
All kinds of parameters setting and display are completed by computer.
Phase position and slotting height is controlled by frequency converter, ensuring high precision.
During feeding, the ink roller will automatically down. When feeding stops, it will automatically go up. Since that, the waste of paperboard can be reduced.
The auto flexo printer slotter die cutter and stacker can store and memorize numerous orders. If connected with computer, the memory size will considerably increase.
It can also implement order and customer management as well as report printing.
Remote maintenance and parameter modification can be realized.
Note:
Machine size can be designed according to the requirements of customer.