Automatic Corrugated Carton Box Making Machine
ML Series Die Cutting and Creasing Machine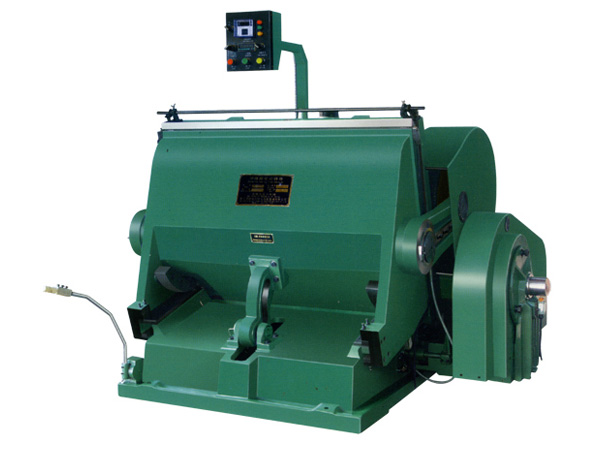 The ML series die cutting and creasing machine, also called clamshell die cutter is mainly used in the production line of special cartons. It can be used for cutting and creasing a wide range of materials by means of different die boards. Employing flat plate die, this die cutting machine is easier for cutting and creasing. Owing to many safety protecting devices, operation is not only easy but also safe.
Technical Parameters of ML Series Die Cutting and Creasing Machine
Model
Inner Chase Size (mm)
Speed (strokes/min)
Max. Length of Cutting (m)
Power of Motor
(kW)
Weight
(kg)
ML-930
930×670
23±2
<25
3.0
3000
ML-1100
1100×800
20±2
<30
5.5
4500
ML-1200
1200×820
20±2
<35
5.5
4900
ML-1300
1300×920
20±2
<40
7.5
5600
ML-1400
1400×1000
20±2
<40
7.5
6500
ML-1500
1500×1050
18±2
<50
7.5
7500
ML-1600
1600×1050
16±2
<50
11
11000
ML-1500
1800×1300
16±2
<60
15
12500
Main Features of ML Series Die Cutting and Creasing Machine
The sliding bearings are made of high quality cast copper alloy, giving excellent abrasion resistance and vibration reduction
Flywheel boasts big moment of force and large pressure force.
Due to inblock cast by high quality materials, the machine body comes with high strength and great rigidity.
Single-disc electromagnetic clutch ensure flexibility and reliability.
This series die cutting and creasing machine is proud of three prominent functions of single sheet cutting, continuous cutting and time-delay opening. Time-delay range is adjustable as you like.
Operating height is reasonably designed; opening angle of the frame is big.
Centralized lubricating system ensures excellent lubricating performance and great reduction of wear.
Reliable safety protection system can get you safety under great control.