Automatic Corrugated Carton Box Making Machine
BFY Series Slitter Scorer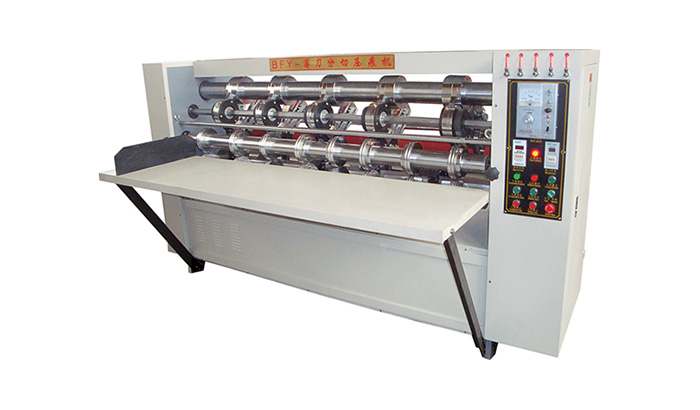 The BFY series slitter scorer is an ancillary machine for carton making. It is mainly used for slitting and scoring corrugated cardboard. Employing thin blade technology, this slitting and scoring machine has overcome the phenomena of burr and flattening caused by using traditional thick blade. Processed by this paperboard converting equipment, the corrugated board is burr-free and has sound flute, smooth edge and great straightness.
Our standard slitter scorer is provided with four slitter knives and six scorer heads. In addition, we also offer five slitter knives and eight scorer heads for choice. You can impressed that this thin blade slitter scorer is equipped with a re-sharpening device which implements automatic sharpening to the slitter knife and supports manual adjustment, thus ensuring easy operation.
Technical Parameters of BFY Series Slitter Scorer
| | | | | |
| --- | --- | --- | --- | --- |
| Specification | 1800mm | 2000mm | 2200mm | 2500mm |
| Max. slitting width | 1700mm | 1900mm | 2100mm | 2400mm |
| Min. slitting width | 180mm | 180mm | 180mm | 180mm |
| Scoring gap adjustment | 0-12mm | 0-12mm | 0-12mm | 0-12mm |
| Min. scoring width | 50mm | 50mm | 50mm | 50mm |
| Motor power | 4kw | 4kw | 4kw | 4kw |
| Motor speed | 0-1200rpm | 0-1200rpm | 0-1200rpm | 0-1200rpm |
Main Features of BFY Series Slitter Scorer
The maximum machine speed reaches 120m/min and the effective width ranges from 2000mm to 3000mm.
The slitter knife is made of high quality alloy steel, hence providing outstanding sharpness and long service life.
The scoring part adopts 5-point scoring technology and the scoring gap is synchronously adjusted, providing beautiful and accurate scoring. Consequently, cardboard can be easily bent.
The re-sharpening device is available in automatic and manual pneumatic grinding options. Grinding can be done during slitting, thus maintaining sharpness while improving working efficiency.