Automatic Corrugated Carton Box Making Machine
SF-280S Fingerless Single Facer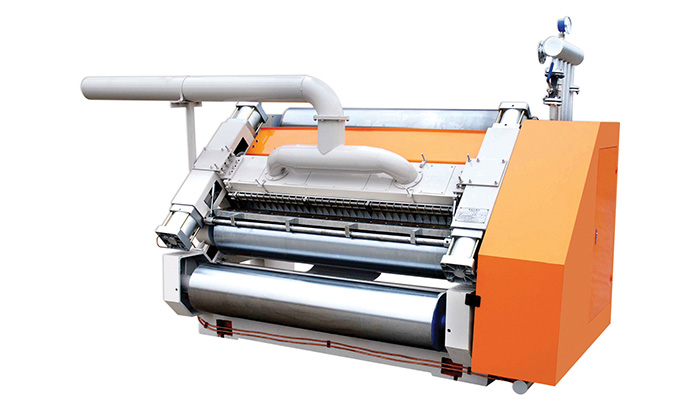 The SF-280S fingerless single facer is mainly used for making single face corrugated cardboards. It is the core unit of single face corrugated cardboard production line and fully automatic 3/5/7 ply corrugated cardboard production line. With top and bottom corrugated rolls made of premium alloy steel, this corrugating machinery will offer you high efficiency at extremely low cost.
Suitable flute patterns are available in A, B, C, E and F. Heating methods include electric, steam and oil heating. Its working speed range is 0-80m/min.
Main Features of SF-280S Fingerless Single Facer
The reducer is immersed in lubricating oil, thus reducing noise and stabilizing operation. In addition, cardan drive method will separate power source.
Lifting and lowering movement of the top corrugated roll, pressure roll and gluing roll are all subject to pneumatic control.
The single face corrugated board machine employs vacuum suction type paper guide with air regulation device, making sure that the corrugated flute can keep stable at high speed.
The corrugated and pressure rolls are lubricated by heat resistant grease.
The gluing machine of this fingerless single facer features automatically circulatory gluing.
The top and bottom corrugated rolls are made of 52CrMo alloy steel, experiencing thermal treatment and surface grinding process. Hardness is HRC58-60.
The glue roller surface has been engraved with special mesh and plated with hard chrome.
Motorized or manual glue insulating device is used to match glue width with paper width.
The gluing unit comes with two running ways when the machine stops, namely independent running and non-independent running.
Specifications of SF-280S Fingerless Single Facer
1. Maximum machine speed: 80m/min
2. Effective width: 1400mm-1800mm
3. Corrugated roll size: φ280mm