Automatic Corrugated Carton Box Making Machine
SF-380S (405S) Fingerless Single Facer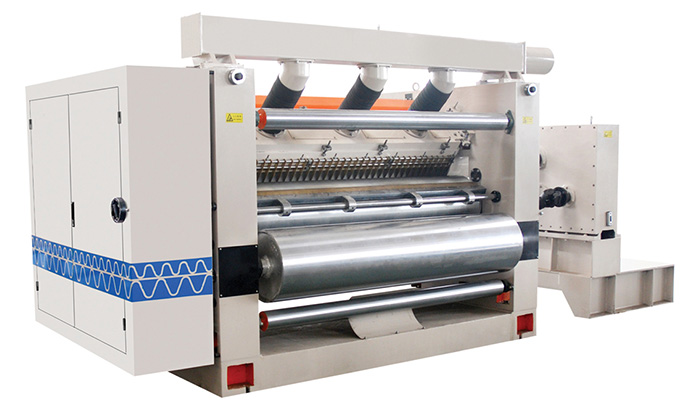 HUAYU SF-320S (360S) is a high speed single facer already, the SF-380S (405S) fingerless single facer can offer higher speed. Specifically, the maximum machine speed is up to 220m/min. This absorption single facer is mainly used for making 2 ply corrugated fiberboards. The upper and lower corrugating rolls are made of tungsten carbide materials.
As a core part of 2 ply corrugated board production line and automatic 3/5/7 ply corrugated board production line, this corrugated machinery plays an indispensable role in the manufacturing of corrugated cardboards. It is suitable for all kinds of flute patterns including A, B, C, E and F. The heating methods are available in electric heating, steam heating, oil heating, etc.
Main Features of SF-380S (405S) Fingerless Single Facer
This corrugating machine is equipped with pre-heat roll of linerboard and steam hardening device for corrugated medium.
Split design of the upper and lower corrugating rolls with the whole machine makes sure that the corrugating rolls can be changed easily, thus ensuring convenience for changing flute patterns.
The glue roll and doctor roll of this fingerless single facer can be installed and dismounted by a guide rail, thus reducing maintenance time.
Up and down movement of corrugating roll, pressure roll and glue roll comes with pneumatic control.
The fingerless single facer adopts variable frequency motor as its main transmission which boasts independent gearbox and employs three shafts. The speed up and down is controlled by frequency converter, hence saving power and maintaining a communication interface for production management.
The gears are all immersed in oils. Such lubrication method for gears can reduce noise, keep stability and prolong service life.
The gluing unit will run independently when the fingerless single facer stops, avoiding glue being dried. The glue amount can be adjusted electrically, with digital display. It can also be adjusted manually.
The bearing of corrugating roll and pressure roll are lubricated by high temperature resistant grease, thus ensuring high durability and smooth running.
Specifications of SF-380S (405S) Fingerless Single Facer
1. Maximum machine speed (380S): 200m/min
2. Maximum machine speed (405S): 220m/min
3. Effective width: 1400mm-2500mm
4. Corrugating roll size: φ380mm or φ405mm