Automatic Corrugated Carton Box Making Machine
BF Series Slitter Scorer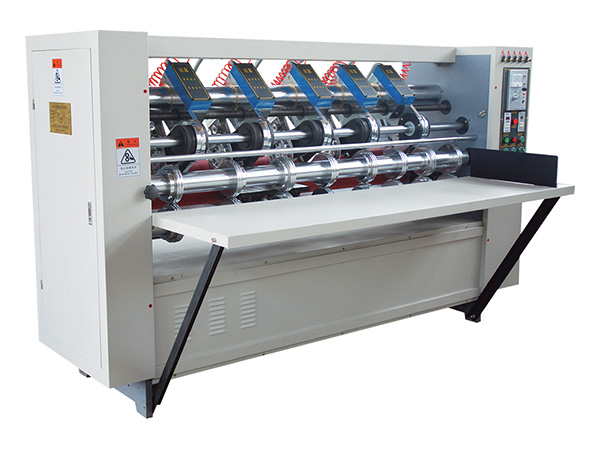 Differing from the BFY series slitter scorer, the thin slitting blade of the BF series slitter scorer is electrically controlled and re-sharpened automatically. Thin slitting blade is also utilized by this slitting and creasing machine, effectively avoiding the results of burr and flattening caused by traditional thick blade.
The corrugated cardboard processed by this type of slitter scorer comes with intact flute, no burr, neat edge and good straightness. Overall quality and appearance of the paperboard can be improved. Generally, this carton machinery is equipped with 4 slitter knives and 6 scorer heads or 5 slitter knives and 8 scorer heads.
Technical Parameters of BF Series Slitter Scorer
| | |
| --- | --- |
| Blade | Φ200 (material is optional) |
| No. of slitter knife | Four (plus or minus according to customer's requirement) |
| No. of scoring | Six (plus or minus according to customer's requirement) |
| Max. slitting width | 1700mm, 1900mm, 2100mm, 2400mm |
| Min. slitting width | 150mm |
| Scoring gap adjustment | 3-5mm |
| Min. scoring width | 50mm |
| Motor power | 4kw |
| Motor speed | 0-1200rpm |
| Knife adjusting speed | 500mm/min (Motorized) |
| Outline dimension | Based on product model |
Main Features of BF Series Slitter Scorer
Maximum machine speed is up to 120m/min. Working width ranges from 2000mm to 3000mm.
The slitting part employs high quality alloy steel knives which provide great sharpness and long lifespan as well.
The scoring part adopts 5-point scoring and the scoring gap is synchronously adjusted. Beautiful, precise and easy-to-bend scoring can be thereby produced.
The re-sharpening device for slitter knife comes with two kinds of air operated sharpening method i.e. automatic and manual. Sharpening is carried out as the slitter scorer is slitting, thus improving working efficiency.
Movement of the slitter knife is motorized adjust.
Front scoring or front feeding can be customized according to customer's demands.