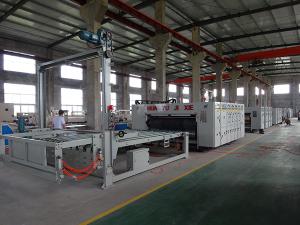 Since 1995, HUAYU has been working with the manufacture of corrugated box making machines. And in these years, we have been always committed to improving the quality of our carton machinery by absorbing new technology at home and abroad and combining the requirements of Chinese carton manufacturing industry for sustainable development. Consequently, we have developed numerous cardboard box making machines with outstanding quality and high efficiency, including corrugated box plant, 3/5/7 ply corrugated board production line, flexo printer slotter die cutter, rotary slotter, rotary die cutter, automatic carton folder gluer, carton stitching machine, flute laminator and some ancillary machines for carton making.
These high quality corrugated box making machines owe deeply to our specialized equipment, strict scientific management and exquisite production process. Additionally, HUAYU enjoys superb geographic advantages. That is, located in Hebei province, we are very close to Beijing and Tianjin as well as sea port, airport and expressway. Therefore, we can share the convenient transportation as well as easily obtainable information and a large number of inexpensive labors. Long term and trustworthy raw material supplier enables us to guarantee material quality while offering carton machinery and corrugated cardboard production line at competitive price.
Our main characteristics include innovation and quality, reasonable price and complete service, as well as a passionate commitment to excellence. Our factory has obtained the certificate of ISO9001 and our corrugated box plant as well as multiple ply corrugated board production line have been CE certificated. With many years effort, our products have been hot sale in more than 40 countries including USA, Mexico, Chile, Poland, Hungary, Bulgaria, Turkey, UZ, India, Russia, Australia, to name a few. We promise that your trust will be rewarded by higher quality, cheaper price and better service.