Automatic Corrugated Carton Box Making Machine
SF-320S (360S) Fingerless Single Facer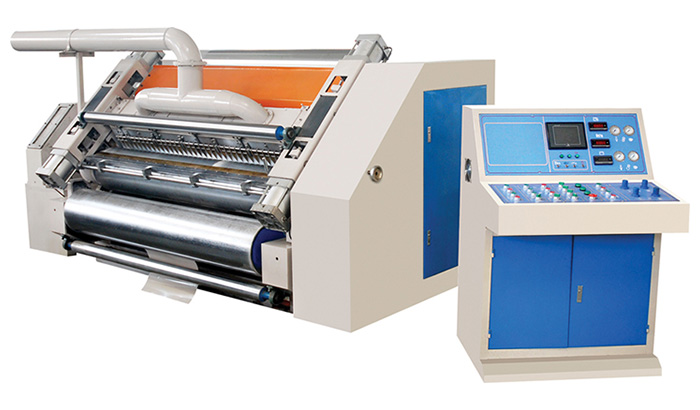 Our SF-320S (360S) fingerless single facer, also used for making single face corrugated boards, comes with higher machine speed. The working speed range is 0-150m/min. The top and bottom corrugating rolls are made of high quality 52CrMo alloy steel.
The high speed single facer also plays significant role in single face corrugated board production line and automatic 3/5/7 ply corrugated board production line. The optional flute patterns are available in A, B, C, E and F. There are various heating methods available, namely electric heating, steam heating, oil heating, etc.
Main Features of SF-320S (360S) Fingerless Single Facer
The reduction gearbox enjoys oil immersed lubrication, thus producing low noise. Cardan drive can make power source separated.
Up and down movements of top corrugating roll, pressure roll and adhesive roll are controlled pneumatically.
Vacuum absorption type cardboard guide roll with air flow adjustment device will assure that the corrugated flute pattern can keep stable at high speed.
The bearings of corrugating roll and pressure roll are lubricated by high temperature resistant grease.
This type of fingerless single facer comes with a high performance gluing unit that provides automatic and circulatory gluing capability.
The top and bottom corrugating rolls are made of superior 52CrMo alloy steel, experiencing thermal treatment and surface grinding process. Hardness reaches HRC58-60.
The glue roll has been carved with reticulate pattern and plated with hard chrome.
Manual or motorized glue adjusting device is specially designed for matching glue width with the paper width.
The gluing unit of this fingerless single facer can run independently or not when machine stops.
Specifications of SF-320S (360S) Fingerless Single Facer
1. Maximum machine speed (320S): 120m/min
2. Maximum machine speed (360S): 150m/min
3. Effective width: 1400mm-2500mm
4. Corrugating roll size: φ320mm or φ360mm