Automatic Corrugated Carton Box Making Machine
HUAYU-B Series Auto Flexo Printer Slotter Die Cutter & Stacker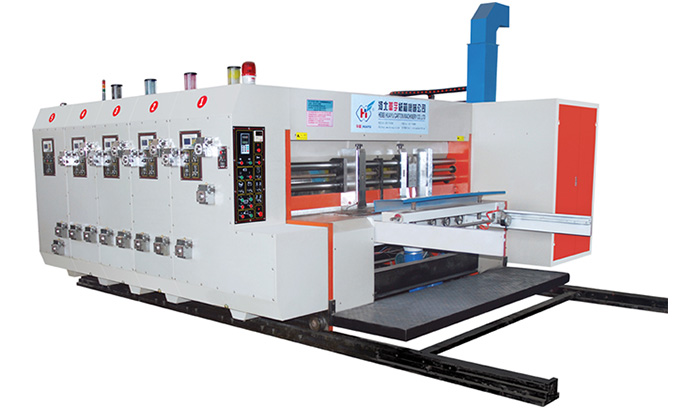 As a significant part of corrugated carton production line, our HUAYU-B series auto flexo printer slotter die cutter and stacker, similar to the A series, is mainly designed for printing high quality and precision colors on corrugated cartons, especially for top printing.
Technical Parameters of B Series Auto Flexo Printer Slotter Die Cutter & Stacker
No.
Name
unit
Parameter
HYB-340
HYB-420
HYB-480
HYB-530
1
Inner Width
mm
2400
2600
2200
2800
2400
2800
2600
3000
2
Max. Sheet Size
mm
1050×
2200
1050×
2400
1250×
2000
1250×
2600
1450×
2200
1450×
2600
1650×
2400
1650x
2800
3
Max. Print Area
mm
980×
2000
980×
2200
1250×
1800
1250×
2400
1450×
2000
1450×
2400
1600x
2200
1600×
2600
4
Min. Sheet Size
mm
280×
600
280×
600
350×
700
350×
700
400x
670
400x
670
420×
670
420×
670
5
Print Plate Thickness
mm
7.2
7.2
7.2
7.2
6
Max. Machine Speed
sheet/min
160
120
110
90
7
Economic speed
sheet/min
0-140
0-100
0-90
0-70
8
Topping Precision
mm
±0.5
±0.5
±0.5
±0.5
9
Cardboard Thickness
mm
2-11
2-11
2-11
2-11
10
Min. Slotting Interval
mm
135×135×
135×135
165×165×
165×165
165×165×
165×165
195×195×
195×195
11
Max. Slotting Depth
mm
260
330
370
410
Main Features
This corrugated board printing machine is available with touch screen and motorized control systems.
It is constructed from the highest quality materials and components.
The transmission gears, made of premium alloy steels, have processed by carburizing, quenching and grinding. The hardness is HRC58-62.
The main drive roller of this auto flexo printer slotter die cutter and stacker employs keyless connection which can decrease connection clearance and thereby keep long-lasting printing precision.
The transmission device features circulating lubrication by double oil pump.
This auto flexo printer slotter die cutter & stacker come with auto zero and memory reset functions.
The packaging machinery is suitable for making small size corrugated cartons.
Its maximum machine speed can reach 120 sheets per minute.
Components of HUAYU-B Series Auto Flexo Printer Slotter Die Cutter & Stacker
Feeder Unit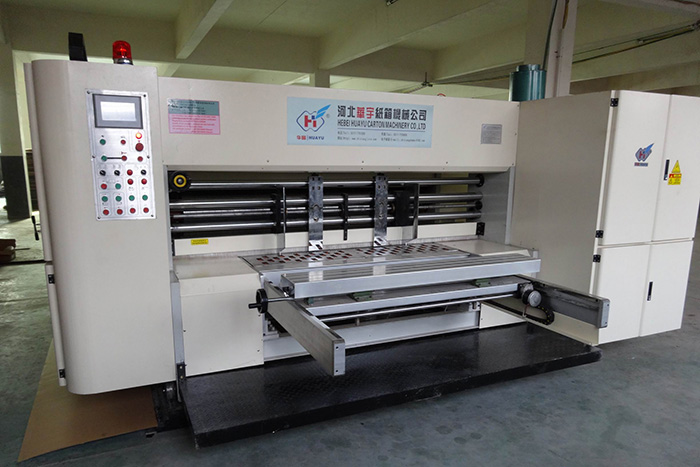 Features of Feeder Unit
This carton making machine is designed with a belt type lead edge feeder. The suction fan is used for aiding the feeding of warped boards. The suction strength can be adjusted depending on your actual demands.
The front plate is manually adjusted, with a graduated scale used for displaying the adjusted condition.
Forward and backward movement of back board is adjusted by computer with digital display. Its angle is adjusted manually.
The side gauge is also adjusted by computer. The parameter to be adjusted can be preset through the touch screen.
The auto flexo printer slotter die cutter and stacker is designed with a dust removing device at the feeder unit for the cleaning of dust and impurity on the paperboard, thus improving printing quality.
The frequency adjustment of main motor is controlled by PLC program. The man-machine interface is equipped with LCD screen.
The paperboard kicking aluminum plate will be return to zero whenever the machine stops.
This feeder is ideal for single wall, double wall and triple wall corrugated boards. E flute corrugated board is included.
Printer Unit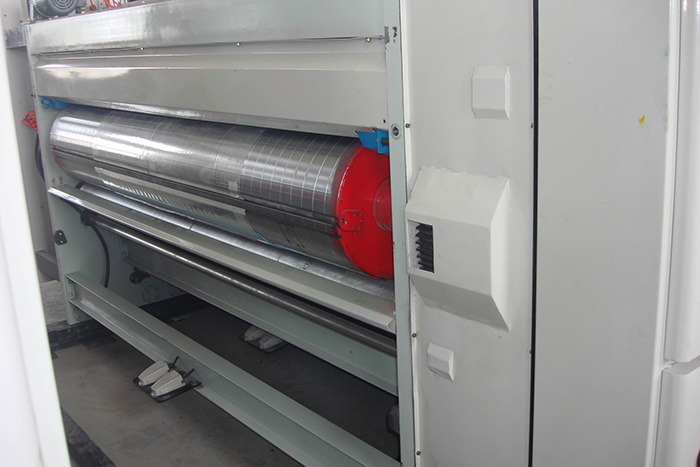 The printer unit of our B series auto flexo printer slotter die cutter and stacker is available in 1 to 5 color printing or more color printing. Apart from ordinary cartons, it can also print high quality and precision polychrome printing cartons such as fruit case, gift box, beer case, etc.
Features of Printer Unit
The flexo printer slotter is equipped with a steel anilox roller.
The inking system employs a rubber cushion roller.
Due to a quick flexo plate changing device, the flexo plate can be easily mounted and dismounted.
Phase adjustment in printing features PLC and touch screen control which can achieve 360 degree adjustment.
Planetary gear type phase adjustment device shows long service life.
The flexo printing machine is equipped with an automatic brake which will prevent the print cylinder from rotating when it is separated or in phase adjustment, thus keeping the original gear position unchanged.
With auto reset system, the print cylinder can be automatically returned to zero after being washed.
The printer is equipped with an auto anilox roller lifting device which automatically lifts the anilox roller and makes it separated with the printing plate when the feeding stops.
All clearance adjustments are completed by computer.
Slotter Unit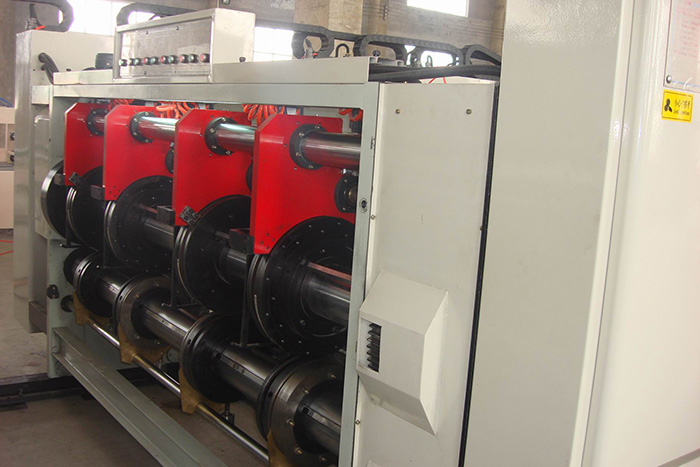 The slotter unit of HUAYU-B series flexo printer slotter, die cutter and stacker is used for making standard corrugated cartons. The printed paperboard will experience slotting, creasing, slitting and corner cutting in this part. Adjustment of slotting size and carton height can be manual or motorized.
Features of Slotter Unit
Slotting phase adjustment and carton height adjustment is controlled by PLC and color screen. It is double frequency adjustment.
The phase adjustment device comes with planetary gear structure, thus ensuring long life span.
The 7mm wide slotting knives are made from alloy materials, which are treated by thermal processing and grinding, consequently ensuring sharp edge and high precision.
The interval of slotting and scoring is controlled by high precision ball screw, PLC and touch screen.
The slotter is designed with auto zero set system that has initial alignment and memory reset functions.
User-friendly operation interface with color touch screen ensures easy operation.
Die Cutter Unit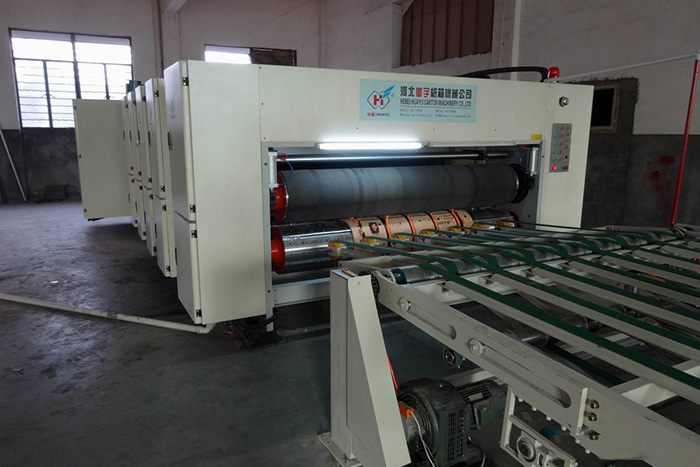 The die cutter unit in this series flexo printer slotter, die cutter and stacker is great for die cutting special corrugated boards by installing different die-boards. It can die cut 2 to 3 or more paperboards once.
Features of Die Cutter Unit
The rubber cushion roller can move at axial direction automatically and circularly.
Covered with the best-in-class rubber, the cushion roller can perform perfectly.
It is designed with auto-reconditioning device for worn cushion roller.
The linear speed of the upper and lower rollers will be automatically compensated after they are repaired.
The die cutter unit comes with versatility. That is, it is favorable for quick change of slotting and die cutting.
Note:
Machine size can be designed according to the requirements of customer.